What is a go-to-market strategy?
A go-to-market strategy defines how your organization will engage with customers to maximize sales productivity and growth.
It typically includes:
Distribution strategy: How and where you make your solution available to customers  (e.g. online, brick-and-mortar store, resellers, brokers, etc)
Marketing strategy: How you identify and engage with your potential customers through marketing channels (i.e. what is the marketing mix?)
Sales strategy: How you structure and enable your salesforce to meet business targets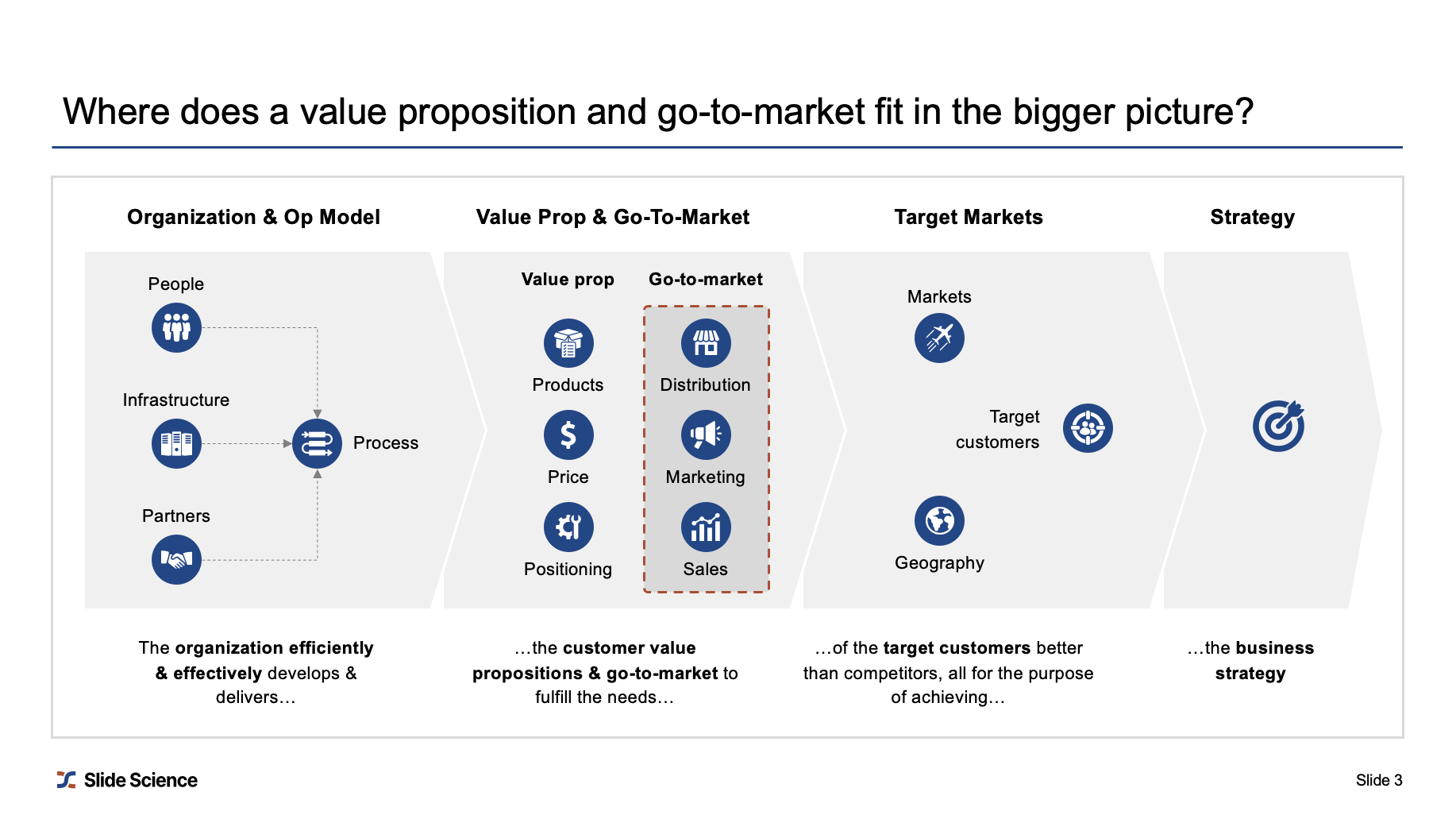 What is a go-to-market strategy slide?
A go-to-market strategy slide summarizes an organization's overall go-to-market strategy, and covers distribution, marketing and sales. It usually follows the value proposition, which cover the product, price and positioning.
Typically, the go-to-market strategy requires multiple slides to communicate effectively. In fact, it's not uncommon for the strategy be a standalone PowerPoint presentation.
Example key takeaways slides
The value proposition and go-to-market toolkit
We have put together a consulting toolkit that includes PowerPoint templates, tools, frameworks, and Excel models to create a value proposition and go-to-market presentation.
The Value Proposition & Go-To-Market Toolkit include:
A detailed end-to-end presentation to develop a value proposition and go-to-market

 

107 consulting-quality slides and templates that you can use in your deliverables



23 Excel models and calculators to simplify analysis, modelling, and forecasting


21 of the most powerful frameworks and tools used by consultants in their own projects

Lots of real-world insights and supporting data to support your arguments
Consulting firm examples
Check out some examples of go-to-market strategy slides from top consulting firms.