As the recruiting season comes thick and fast, applicants worry about the ideal way to structure their resume and cover letter.
And for good reason. Employers look for personalized and thoughtfully written cover letters as one of the ways of screening applicants for positions that they are hiring for.
A bad cover letter can be a deal breaker, so it is one of the most essential things recruiters from top-tier consulting firms consider.
In this article, we will cover how to write the perfect cover letter for you to secure a role at a management consulting firm – from the Big 4 to MBB.
What is a consulting cover letter?
A consulting cover letter accompanies your resume and documents your personal motivation for applying for the role, why you'd be a good consultant, and your desire for joining the firm you're applying to.
When is a consulting cover letter required?
A consulting cover letter is required by most consulting firms, including McKinsey, BCG, Bain, the Big 4, and boutiques. It is generally required for both full-time and intern positions.
The best way to confirm whether a cover letter is required is to speak to the recruiter or check the firm's website. In most cases, the firm will require you to submit both a resume and a cover letter.

Why do firms ask for a consulting cover letter?
There are a number of reasons that firms require applicants to submit a cover letter, including:
It gives an insight into the unique attributes of the applicant. Since a cover letter is a personalized essay of sorts, it gives firms a richer understanding of the candidate, compared to just the resume.
Allows the applicants to describe their motivation to join the firm. The cover letter offers the candidate some free-form space to share their story and motivations.
Separating the extraordinary from the rest. A resume constrains what a candidate can talk about. The cover letter, on the other hand, allows the candidate to focus on the parts of their experience and motivations that make them unique.
It's a sneak peek into your communication skills. As a consultant, you will need to convince and persuade your clients. Firms are looking to see whether you can use your cover letter to convince them to give you an interview.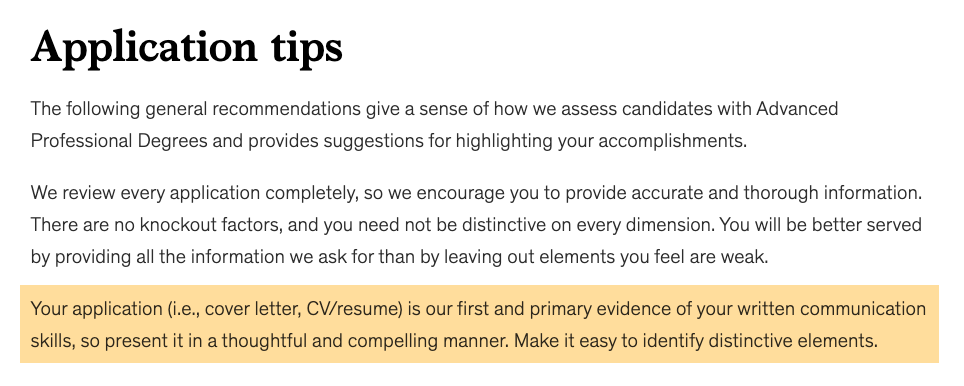 How to structure a consulting cover letter
Paragraph 1. A simple opening
The opening to your letter is the most basic and straightforward paragraph. Simply introduce yourself and state the role that you are applying for. Keep it short, sweet, and simple.
Paragraph 2. Why you are a promising candidate
This is where you get the chance to open up and show why you are the ideal fit. Don't be shy, this is no time for understatement or modesty.
Start by researching the firm that you're applying to, and the skills and attributes that they are looking for. For example, the McKinsey website talks about how they value leadership abilities.
Next, think about the most compelling personal or professional demonstration of that attribute. In the case of McKinsey, you want to find an example where you demonstrated strong leadership.
The most important thing about your examples is that they show outcomes and results. It's not enough to show that you are a leader; you need to show that your leadership achieved something amazing.
If possible, you want to demonstrate 2-3 skills and attributes that you firm is looking for. Given that there is limited space on a one-page cover letter, it's fine to show multiple attributes in one example.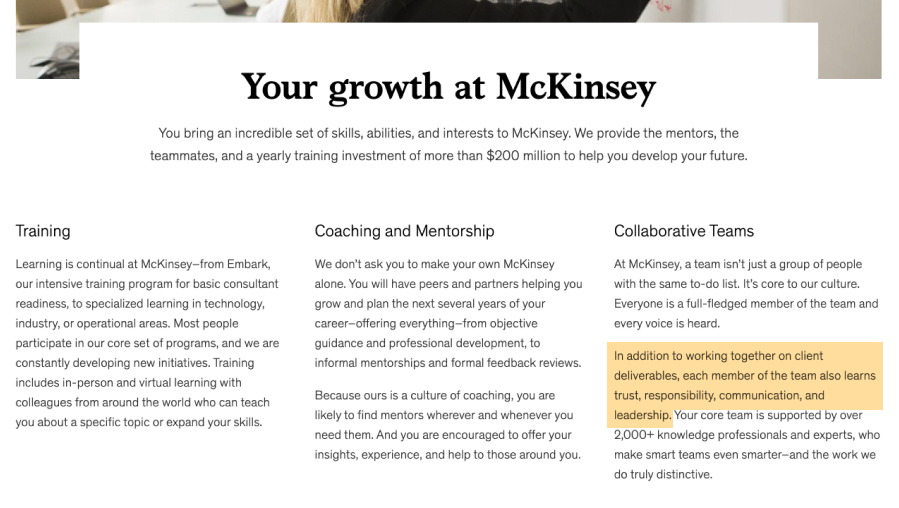 Paragraph 3. Why you want to be a consultant
Now is your chance to demonstrate why you chose consulting as your career path.
All the top consulting firms want to recruit candidates who show a desire to work in high-stakes world of consulting. You need to show that you know what you are getting into, that you are ready for the challenge, and most importantly, that you are excited to work in consulting.
Although firms understand that most consultants exit to industry after a few years, don't mention that in your cover letter.
Paragraph 4. Why the position and firm is for you
Now that you have covered why consulting is a good fit for you, it's time to narrow down on the specific role and position that you are applying for.
Research the firm thoroughly and identify a few exciting projects, people, or reports that caught your attention. Talk about why those things impressed or interested you, and led you to want to work at the firm.
Common mistakes while writing a cover letter
There are a number of common mistakes to avoid when writing a cover letter:
Not being specific enough. Firms can sniff a generic cover letter a mile away. Ensure that your cover letter is tailored to the firm you're applying to.
Not demonstrating the right skills. Although firms can be similar, there are small differences in the type of candidates they are looking for. Make sure that you demonstrate the right skills and abilities for the specific firm you're applying to.
Attention to detail. Ensure that your cover letter is clear and there are no spelling or grammatical mistakes. That would be a good demonstration of what they are not looking for!