What is the Bain Advantage Program?
The Bain Advantage Program is a 5-day internship for advanced degree candidates to experience life as a consultant.
The program includes:
The opportunity to spend a "week in the life" of a management consultant at Bain
Training sessions that focus on business fundamentals and leadership skills
A dedicated mentor to support you as you work through client problems
Social events to meet with current Bain consultants and other Advantage Program interns
The Bain Advantage Program is considered to be the best program for advanced degree candidates to transition into consulting.
Unlike similar programs, such as the McKinsey Insight Program and Bridge to BCG Program, the Bain Advantage Program allows you to work on real-world client cases (with support of a mentor and the Bain case team) and is fully paid.
What's more, successful interns are given early consideration and interviews for full-time positions at Bain. Those positions will be offered for the same office at which the you completed the Advantage Program.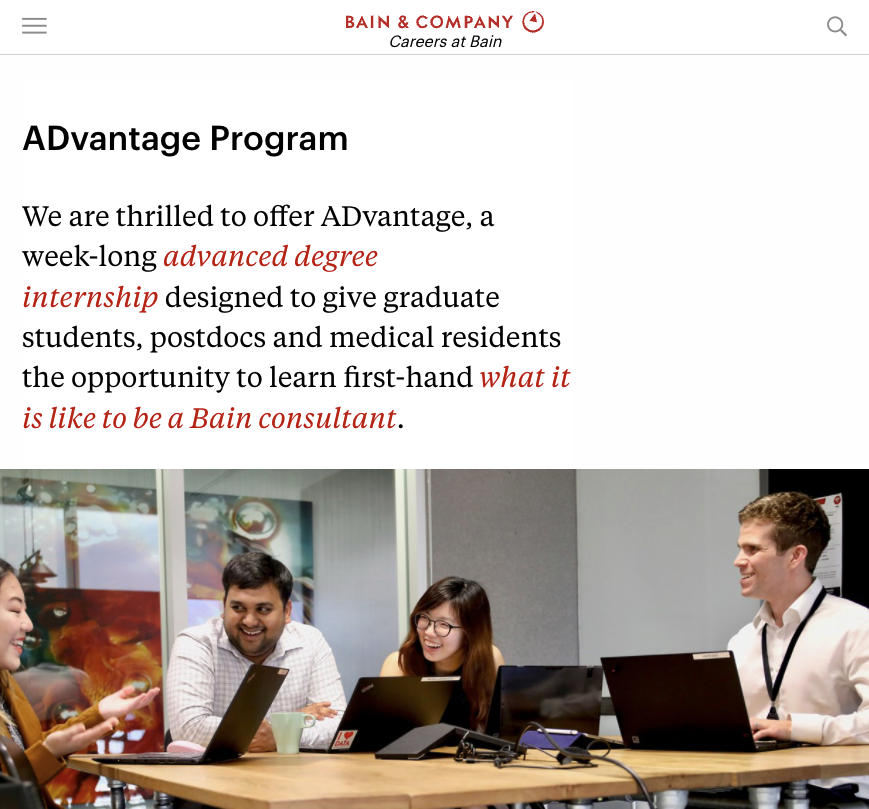 Who is eligible for the program?
Candidates must be either currently enrolled in or graduated with an advanced degree within the last 3 years. Advanced degrees are defined as:
PhDs and post-docs
JDs
MDs and medical residents/fellows
PharmDs and other doctorate-level degrees
Non-MBA Master's degrees (as long as you have >3 years of work experience post-undergrad)
It's important to note that Bain is one of the few firms that accept non-MBA Master's degrees in their advanced degree holder programs — McKinsey's Insight Program only accepts PhDs, JDs, and MDs.
Eligibility with other programs
Other eligibility requirements to note include:
If you've applied for the Bain Access to APAC Program, you are not eligible for the Bain Advantage Program. You should only apply for one.
If you've applied for the 10-week Summer Associate internship, you can also apply for the Bain Advantage Program. However, you will only be invited to interview for one of the programs.
If you've previously applied for Bain and been rejected, you can still apply for the Bain Advantage Program. In fact, Bain said quite a few candidates have received offers that way!
Where and when is the program held?
The Bain Advantage Program is only held in a few office locations in North America. In 2022, those offices are:
Atlanta​
Austin​
Boston​
Chicago
​Dallas​
Houston​
Los Angeles
New York​
San Francisco​/Silicon Valley​
Seattle
Toronto​
Washington, DC​
It's important to remember that successful interns will receive a full-time offer for the office where they completed the internship — so bear this in mind when applying for Bain Advantage!
And if you don't live in North America, you should consider applying for the Bain Access to APAC Program.
How to apply to the Bain Advantage Program
When do applications open?
Applications open on the Bain careers website in January and close in early March, so you have about ~2 months to prepare your applications. Bain will not begin the recruitment process until after the March deadline.
What is the application process?
There are only two stages in the Bain Advantage Program application process:
Applications: Apply on the Bain careers website when applications open in January. Your application will include a 1-2 page resume, cover letter, recent test scores (e.g. GRE, LSAT, MCAT, etc), and your Bain office preference. Invites to the next stage are usually sent in late March.
Interviews: Applicants will then participate in two 40-minute interviews in mid-April. These interviews are experience interviews (e.g. consist of behavioral questions like why are you interested in consulting?), not case interviews.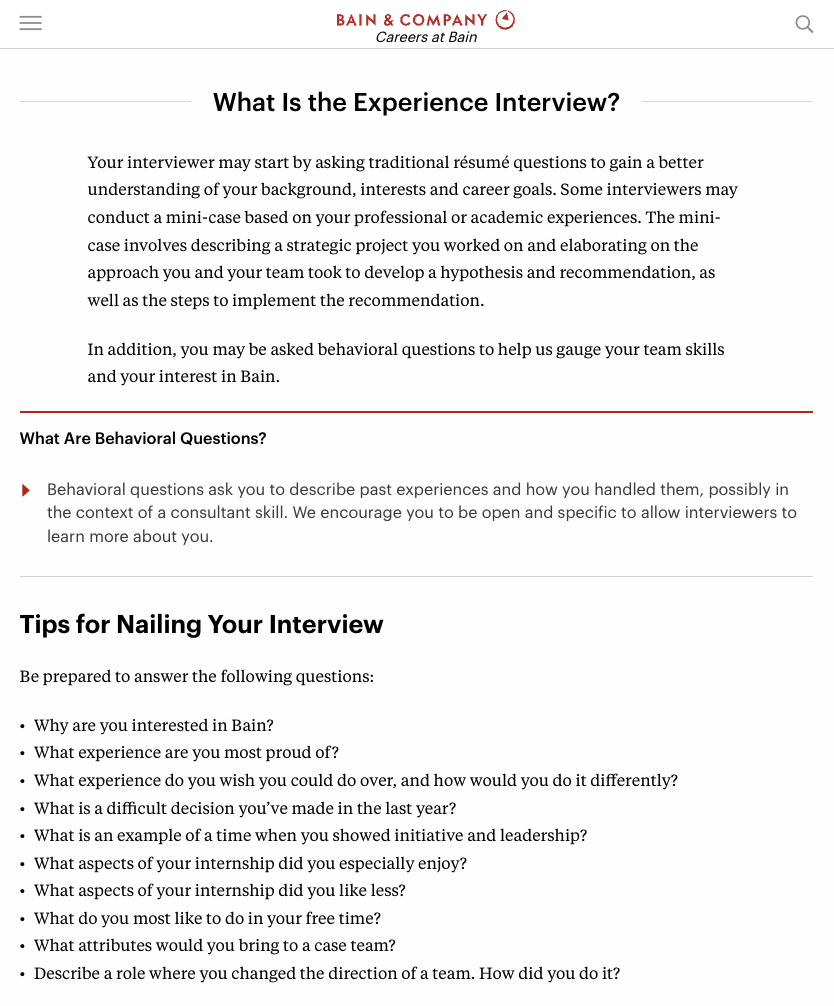 Tips for applicants
Bain will have two questions for anybody who is looking to move into consulting from other disciplines:
Do they really have a passion for consulting?
Can they learn the skills to perform well in consulting?
With this in mind, there are a few things that you can do to set yourself apart:
Show that consulting is your passion. Switching from an academic field to the high-stakes world of consulting isn't easy. Prove why you want to be a consultant — and why you want to work at Bain.
Demonstrate consulting skills in your current field. Consulting requires a few core competencies (e.g. structured thinking, communication, dealing with high-pressure situations, etc). Find ways to demonstrate those skills with examples from your current experience.
Be specific about Bain. Read up on Bain's background, current news, and famous projects so you can discuss them and show the recruiters that you're serious about this position.