McKinsey, Bain and BCG are renowned as the world's most prestigious strategy consulting firms. They attract the best talent, work with the best clients, and deliver the most high-profile projects.
In this article, we'll learn what sets these "MBB firms" apart from other consulting firms, including their unique cultures, clients, ways of working, alma mater, and more.
Who are the MBB consulting firms?
MBB is an abbreviation for the largest and most prestigious strategy consulting firms, namely McKinsey & Co, BCG, and Bain & Co. They're also known as the "Big 3".
In the table below you'll find an overview of MBB firms:
McKinsey & Co
McKinsey & Co is a strategy consulting firm that was founded in 1926 by James O. McKinsey, a professor at the University of Chicago. It is the oldest of the MBB consulting firms.
McKinsey & Co is considered to be the world's most prestigious management consulting firm. The firm has consistently placed first on the Vault Most Prestigious Consulting Firms list and works with 90 of the world's 100 largest corporations.
McKinsey generated approximately $12.5B in revenue in 2021, putting it ahead of rivals BCG ($11.0B) and Bain & Co ($5.8B).
Distinguished alumni of McKinsey & Co include:
Sheryl Sandberg, Chief Operating Officer of Facebook
Delphine Arnault, Executive Vice President of Louis Vuitton
Vittorio Colao, Chief Executive Officer of Vodafone
Boston Consulting Group
The Boston Consulting Group (BCG) was founded by Bruce Henderson in 1963 and has grown into one of the world's most prestigious consulting firms.
Henderson re-shaped the consulting industry. He spent significant time writing thought leadership articles, many of which were published in the Harvard Business Review. And over time consulting morphed from firms that helped behind the scenes, to firms that helped craft innovative ideas and trends in business.
Over the next few decades, BCG grew into a truly international consulting firm, with ~25,000 employees working across ~130 offices in ~45 countries.
Distinguished alumni of BCG include:
Bill Bain, Founder of Bain & Co
John Legend, Musician
Lisa Choi Owens, Chief Revenue Officer of TED
Bain & Co
Bain & Co was founded by Bill Bain, who was a former Partner at BCG and left to establish his own consulting firm in 1973.
Bain introduced a number of innovative business models to consulting. They were the first firm to move from short-term fixed-fee consulting projects to long-term relationships with ongoing retainers. And they were the first to implement an outcomes-based fee model, whereby they would accept equity in lieu of fees.
In 1984, a few key Bain staff (including Mitt Romney) founded Bain Capital, the private equity firm. As of 2022, they have ~$160bn of funds under management.
Distinguished alumni of Bain & Co include:
Susan Wojcicki, Chief Executive Officer of Youtube
John Donahoe, Former Chief Executive Officer of eBay
Mitt Romney, Senator and Former Governor of Massachusetts
Benefits of working at MBB firms
Back in 2020, the r/consulting subreddit conducted a survey of over 750 consultants. They measured satisfaction across a number of dimensions.
In the chart below, you can see the results for consultants that work at MBB firms (blue columns) and the average of all consultants (white diamonds).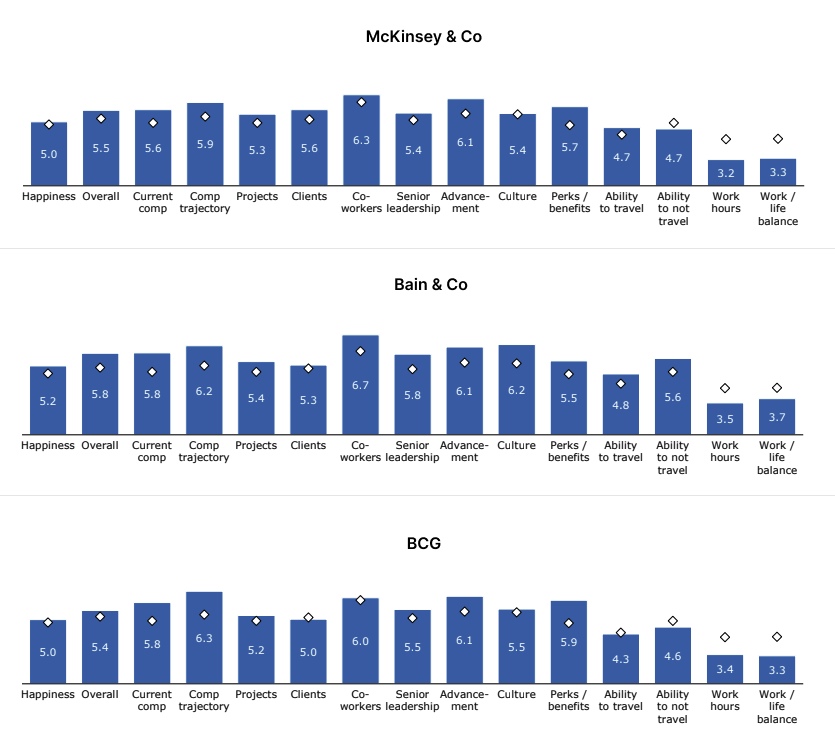 These results show a clear pattern. Generally speaking, MBB consultants are more satisfied than other consultants with compensation, career advancement, projects and clients, and their colleagues and leaders.
But there's a trade-off, MBB consultants are less satisfied than other consultants with their travel requirements and work hours.
Let's dive into each of these aspects…
Compensation
MBB firms pay significantly higher than most other consulting firms. As a new Business Analyst commencing straight after undergrad, you could expect to receive a total salary (base plus bonus) of about ~$115,000.
To put this in perspective, a new consultant at a Big 4 firm is paid closer to ~$80,000. Therefore, MBB firms pay over 40% more than Big 4 firms.
As you might expect, MBB firms continue to pay significantly more than other firms for more senior roles too.
Entry pathways and career progression
All MBB firms have the same main entry pathways:
Undergraduate: Students from top-tier schools can join MBB firms immediately out of undergraduate. They start as a Business Analysts (McKinsey) or Associate (BCG and Bain), with the primary responsibilities of research, data analysis and building client slide decks.
Post-MBA: The majority of MBB firm hires are students with MBAs from top business schools. They start as Associates (McKinsey) or Consultants (BCG and Bain), and they will be responsible for owning and delivering a stream or work on a project.
Advanced Degree: Students with an advanced degree that is not an MBA (e.g. M.D., J.D., etc) can join MBB firms via dedicated programs like the McKinsey Insight Program, the Bridge to BCG Program, or Bain's Advantage Program.
All firms also accept lateral or experienced hires, although this is a less formal pathway. Lateral hires are made based on business need, and the specialist skills or experience of the candidate.
In the image below, I outline the typical career progression for a number of consulting firms: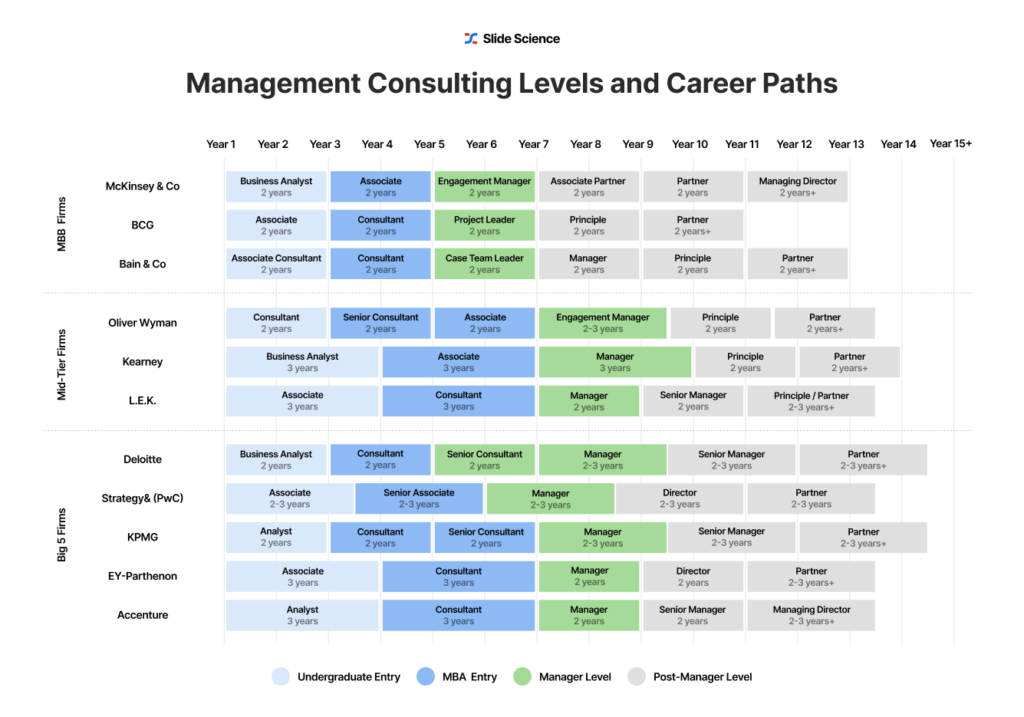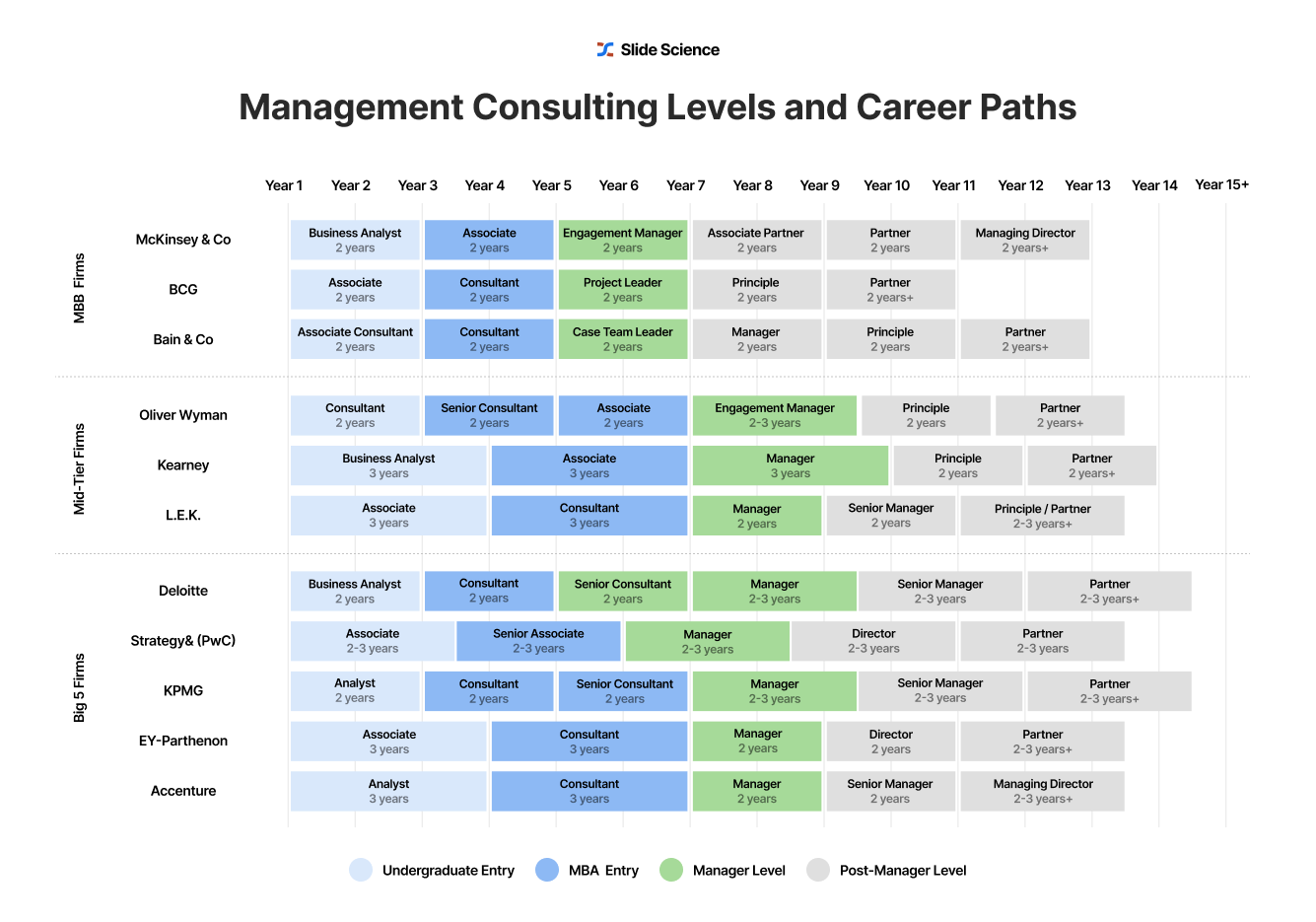 As you can see, MBB firms have a faster career progression than both mid-tier firms and Big 5 firms. You can expect to be managing engagements within 4-5 years and you could even make partner in less than 10 years.
But the fast progression at MBB firms comes at a cost. All firms informally apply an "up or out" policy. This means that employees that are not progressing fast enough are either asked to leave the firm or shifted into an "expert path", where they build specialist skills in an industry, domain or functional area and support client-facing teams.
Projects and clients
MBB firms work with the most senior leaders at the most successful businesses on the most challenging projects.
Some examples of real-world MBB firm projects include:
Credit Suisse-UBS merger plan (McKinsey & Co)
Telefonica organizational redesign (McKinsey & Co)
FIFA global tournament overall (McKinsey & Co)
Government of Turkey-US bilateral trade plan (BCG)
Australian local COVID-19 vaccination production project (BCG)
Lufthansa business rescue strategy (BCG)
Aerolineas Argentina loyalty program refresh (Bain & Co)
CBS-Viacom merger plan (Bain & Co)
Estee Lauder pricing strategy (Bain & Co)
Work-life balance and travel
As a consultant working at an MBB firm, you'll almost always be "on the road". This means that you will spend 4-5 days a week working from the client's office, which is often in another city.
Most of your work will get done between Monday and Thursday, when you're at the client's office. Then you'll fly back to your own office and spend Friday catching up with your colleagues.
A typical workload will be about 55-60 hours per week. This means that you could be working 10-12 hour days while you're with the client.
That being said, there are some ways to address poor work-life balance. For example, learning how to prioritize ruthlessly and manage upward. Treat yourself as a client and think of creative ways to reduce capacity and workload, while still delivering impact.
Differences between MBB firms
McKinsey, Bain and BCG are, unquestionably, the top three consulting firms in the world.  And, to be honest, there's not that much difference between the two.
They are all staffed by incredibly high-performing and intelligent people, have a strong support network of staff and resources, offer great salaries and perks, and have accepting and supportive cultures.
But there are some key differences between the firms… and they relate to company culture.
McKinsey & Co: Traditional and intellectual
McKinsey is considered to be the most traditional and intellectual of all firms. Employees refer to McKinsey as "The Firm" and admire the long and storied history of the organization. Because of this, there is a stronger emphasis on the global firm than to the local office.
They value facts and frameworks over stories and intuition, so it's not all that surprising that many fundamental consulting concepts like the Pyramid Principle and the MECE Principle came out of McKinsey.
In fact, they've even turned their problem-solving process into a science. And it has become the blueprint for many other consulting firms.
BCG: Local and innovative
In contrast, BCG is considered to have a smaller and more local "feel" than McKinsey. For example, there seems to be a stronger emphasis on the local office than the global firm.
BCG was also the first of the MBB firms to make a major push into digital and innovation with BCG Digital Ventures. Compared to McKinsey and Bain, they are more closely aligned to the technology space.
Bain & Co: Flexible, meritocratic and PE-focused
Bain & Co is said to have a stronger emphasis on work-life balance, the working environment, and building close and supportive teams. It's no surprise that Bain ranked #4 and was the top consulting firm in Glassdoor's Best Places to Work in 2022.
Everybody at Bain & Co has the freedom to choose their performance manager (mentor), instead of being allocated somebody by the firm. This mentor helps guide your career and advocates on your behalf. And, unlike other MBB firms, you can quickly accelerate through the hierarchy at Bain if you're a high performer.
Bain also has a strong private equity practice; both through due diligence projects for major PE funds and through Bain Capital, their private equity group. Because of this, Bain offers great exit opportunities for those looking to exit into private equity.
How do MBB firms differ from the Big 4?
MBB firms are "pure-play" strategy consulting firms, which means they started as strategy houses, and only later branched into other forms of consulting.
Clients of McKinsey, Bain, and BCG are mainly looking for consultants to solve big, C-suite level issues that have a great impact on the company.
On the other hand, Big 4 firms started off by focusing on auditing and assurance, and later moved into generalist management consulting. Their clientele is often middle-management level instead of senior executives, and they typically work on less impactful problems (e.g. implementation, cost-cutting, PMO, etc).
Consultants at Big 4 firms have good benefits and a balanced work environment. Projects tend to be long-term, and you may spend months or even years with clients, which makes the firm (and you) practically integral to their companies.