There's one big question asked by candidates who want to get into consulting: what's the difference between McKinsey and BCG?
McKinsey and BCG are, unquestionably, two of the top consulting firms in the world (along with Bain, they are known as the prestigious MBB firms).  And, to be honest, there's not that much difference between the two.
They are both staffed by incredibly high-performing and intelligent people, have a strong support network of staff and resources, offer great salaries and perks, and have accepting and supportive cultures.
But there are some key differences between McKinsey and BCG. And in this article, we'll lay them all out for you.
Recruitment and acceptance rates
Recruitment process
Both McKinsey and BCG have, more or less, the same recruitment processes. They both recruit graduates out of top business schools and undergraduates out of top "target" universities.
They both also have specialized programs for advanced degree candidates (e.g. those with a Ph.D., J.D., M.D., etc). At McKinsey they have the McKinsey Insight Program, and at BCG they have the BCG Bridge to Consulting Program.
Interview process
The interview process at McKinsey and BCG follows the same general process. It starts with an application that includes your resume and cover letter, followed by online screening tests, then a fit interview, and finally a case interview.
There is a slight difference in how each firm structures its fit interview. BCG has a "typical" fit interview, where they ask questions about your experience and background.
But unlike BCG's fit interview, McKinsey's Personal Experience Interview prioritizes depth over quantity. Instead of asking many questions about a range of experiences, they will focus on one experience and ask detailed follow-up questions. Because of this, McKinsey PEIs are famously known as "a mile deep and an inch wide".
Acceptance rates
In terms of exclusivity and acceptance rates, McKinsey has a slight edge. The competition for getting hired at McKinsey is cutthroat, with about 200,000 applicants applying each year, and the acceptance rate is around 1.1%.
McKinsey is considered to be the most prestigious of all consulting firms, so candidates who are lucky enough to have an offer from both firms generally select McKinsey. In fact, a small survey on Reddit showed that 55% of respondents wanted to join McKinsey, compared to 25% for Bain and 20% for BCG.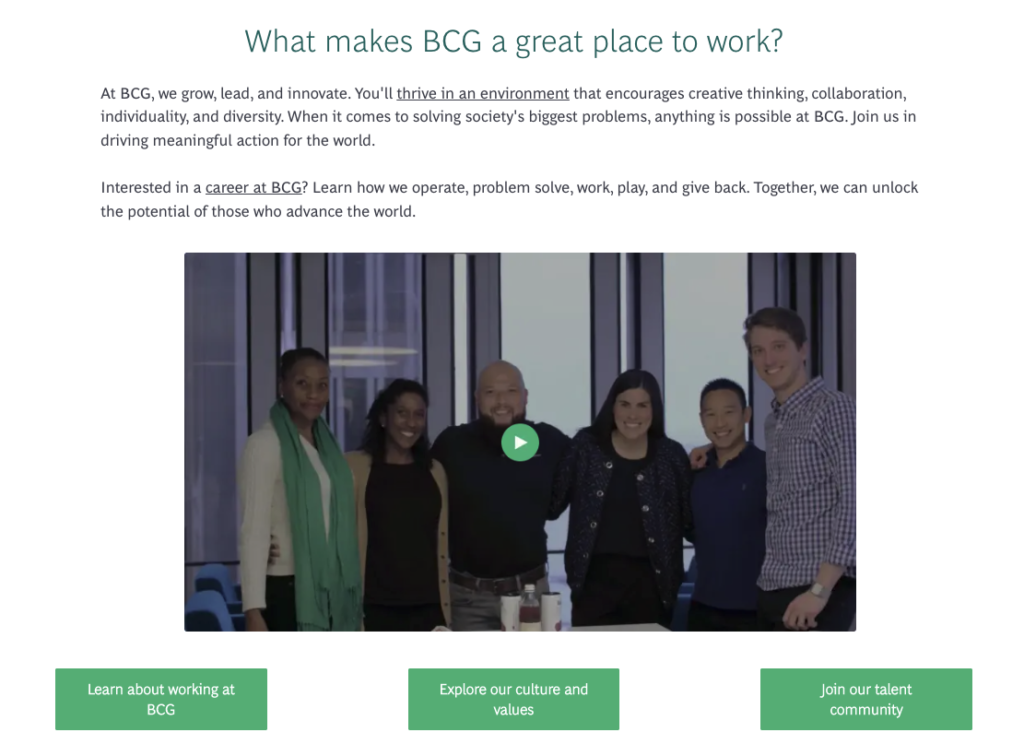 Salary, career progression, and exit opportunities
Salaries
Salaries at McKinsey and BCG are broadly the same. In the US, you should expect to earn approximately $115k as an entry-level Business Analyst at McKinsey or an entry-level Associate at BCG. This grows to a salary somewhere north of $400,000 as an Associate Partner at McKinsey or Principle at BCG.
Career progression
Both McKinsey and BCG also have similar roles and levels, and career progression. Both firms have 5 levels between undergraduate and Partner, and employees are expected to reach Partner somewhere between 10-15 years post-graduation.
Another thing to be mindful of… both McKinsey and BCG prescribe to the "up or out" policy. This means that employees who are not progressing fast enough are asked to leave the firm or move into the "expert path", where they can specialize in a domain and support client-facing teams.
Exit opportunities
For those that choose not to strive for Partner and exit into industry, exit opportunities are broadly equal between McKinsey and BCG.
However, there is some research that suggests more McKinsey alumni become CEOs of large companies. In fact, it is said that every 1 out of 690 McKinsey alumni is destined to be a CEO of a company valued at at least $2 billion in market capitalization.
Office culture and values
Ways of working
McKinsey is considered to be more traditional than BCG. This probably isn't too surprising, especially given that both the MECE Principle and the Pyramid Principle were formulated inside McKinsey in the 1960s and 1970s.
They also tend to work more exclusively with C-level executives and are particularly strong in traditional sectors, such as finance, education and public sector.
On the other hand, BCG tends to build trusted-advisor relationships throughout all levels of an organization. Compared to McKinsey, they do more work in innovation and technology, particularly through BCG Digital Ventures.
Local vs global culture
McKinsey has over 30,000 employees, whereas BCG has closer to 20,000. Because of this, employees report that BCG has a smaller "feel" than McKinsey.
This might also be explained by McKinsey's focus on being one team. The phrase "the Firm" is inscribed in their values and reinforced from day 1. And there is undoubtedly a stronger emphasis on the global firm than to the local office. This generally means that there's more opportunity to travel as a McKinsey consultant.
On the other hand, employees of BCG describe their culture as more relaxed and having closer local office bonds.